Take It Personal: The Hip Hop Improv Show
Thursday, November 30 2017
8:30pm
UCBT Sunset
5419 W Sunset Blvd, Los Angeles, CA 90027
"5 ON IT" Edition with Special Guest "The Luniz"
$7.00
(Plus $1.00/ticket transaction fee)
---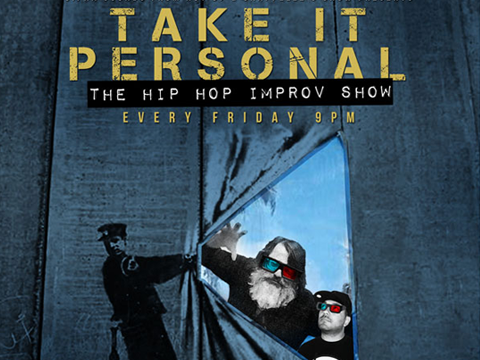 Take it Personal: The Hip-Hop improv show is sold out every week in New York City... and is now hitting the west coast!


DJ Cipha Sounds
from Hot 97FM New York City and Chappelle's Show has uncovered the ancient connection between Hip Hop and Improv. The powers that be have been trying to keep them separated for generations... we will risk our freedom to bring them back together. This show consists of a surprise Hip-Hop star mesmerizing the crowd with some amazing true life stories, and normal rapper shenanigans. This will then spark the creativity of some of the country's best improvisers to create a LIVE comedy show on the spot.
Past artists have included
2 Chainz, Victor Cruz
(NY Giants),
Jadakiss, Raekwon
(Wu-Tang), and many more!
Just a few things you need to be aware of...
You are buying ticket totaling $
You have 10 minutes to complete payment once you click proceed.
Be On-Time
Get there 15 minutes early or your seat may be lost.
Know Where to Go
We have a few different locations, make sure you are going to the right one.
No Refunds or Exchanges
ALL purchases are final. Please don't ask for a refund.
Lineup May Change
The performers listed may not all be present.