Some Kinda Monster presents Dramedy!
Wednesday, October 17 2018
7:00pm
UCBT Sunset
5419 W Sunset Blvd, Los Angeles, CA 90027
EMMANUELLE
Musical improv with Greg Smith, Zach Reino, Jiavani Linayao, Mary Lou Kolbenschlag, Oscar Montoya, Marina Mastros, John Hartman
PAUL F. TOMPKINS (Spontaneanation, BoJack Horseman)

and

KIRBY HOWELL-BAPTISTE (Barry, The Good Place)
$5.00
(Plus $1.50/ticket transaction fee)
---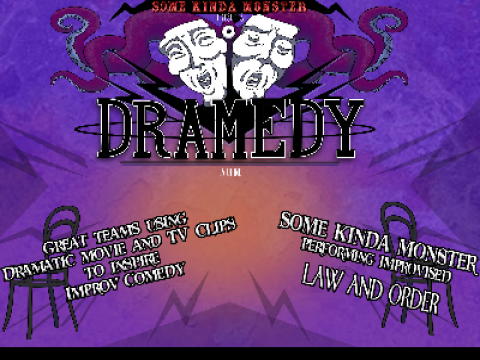 Dramedy is the show where it's not all about the comedy. Some Kinda Monster invites some of our favorite teams to the stage and plays a video clip from a dramatic TV show or film, usually horribly out of context, and watch teams improvise from it. In addition, each show will include an improvised episode of everyone's favorite TV drama, Law and Order, from your host team. We mix drama with comedy to get Dramedy!
Some Kinda Monster is Jacquis Neal, Skot Phillips, Noah Holcomb, Dan Prevette, Kara Luiz, John Lavelle, Emily Dahm, Christine Renaud, Ryan Coil
Just a few things you need to be aware of...
You are buying ticket totaling $
You have 10 minutes to complete payment once you click proceed.
Be On-Time
Get there 15 minutes early or your seat may be lost.
Know Where to Go
We have a few different locations, make sure you are going to the right one.
No Refunds or Exchanges
ALL purchases are final. Please don't ask for a refund.
Lineup May Change
The performers listed may not all be present.